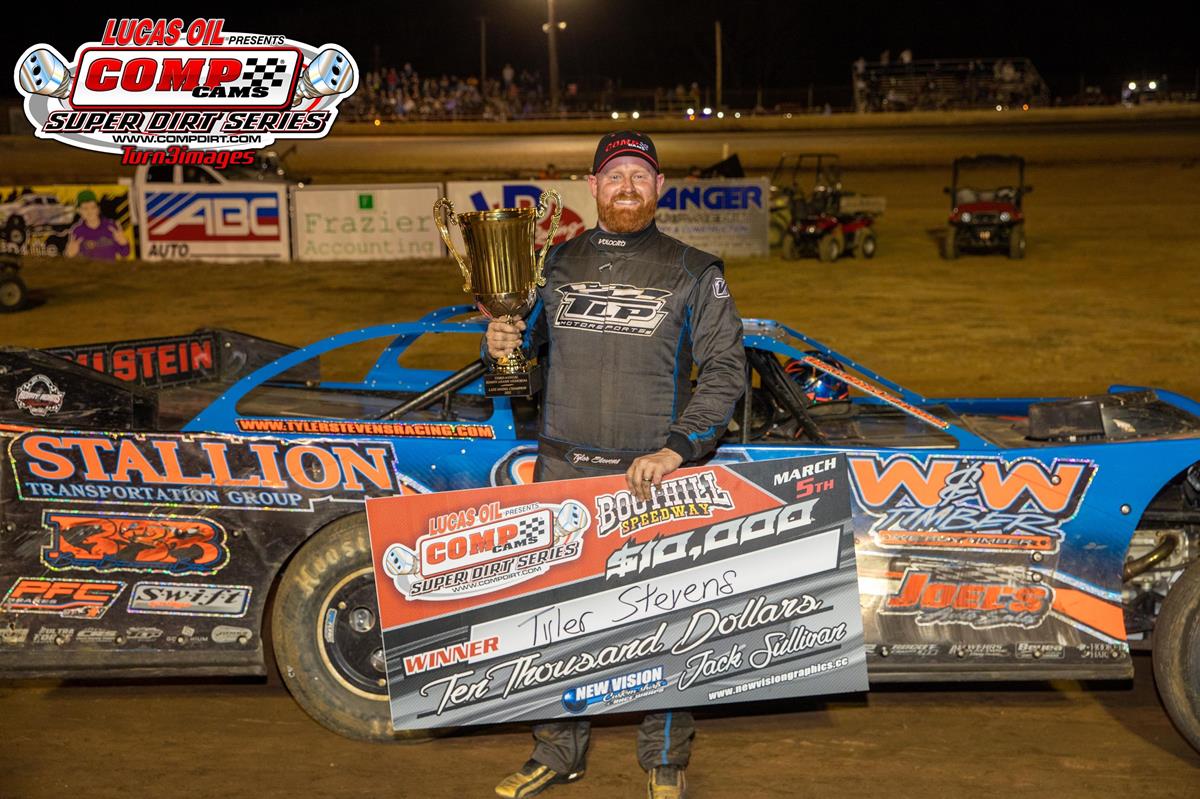 ---
Tyler Stevens Rallies for $10,000 Ronny Adams Memorial Victory
Tyler Stevens opened his 2022 campaign on Friday night at Louisiana's Boothill Speedway as the Arkansas traveler began his rookie campaign with the COMP Cams Super Dirt Series (CCSDS) Super Late Models.
With 35 entries in the pits, luck would not be on Stevens side as he made contact with the wall in the heat race, and then in the B-Main, he was running in a transfer spot before the threads pulled out of the steering wheel coupler, ending his night early.
Bouncing back Friday's bad luck, Tyler Stevens stormed to the $10,000 victory on Saturday night. Advancing from the sixth-starting position Stevens claimed his first-career Super Late MOdel win in the finale of the third annual Ronny Adams Memorial.
"Man, I ain't gonna lie," Stevens said, shaking his head as he attempted to grasp the significance of his $10,000 triumph. "This is my first weekend running Supers. I come from Crate (Late Models) last year … so we didn't really know.
"We came into this weekend open-minded. We're gonna run the COMP Cams deal (in 2022) … we were shooting for a top-15. These guys are as good as it gets. We set ourselves up terribly last night and at that point I was ready to throw the towel in," Stevens admitted. "My wife (Lindsey) and my crew guy Josh kept me going. We didn't go to bed till like 4 this morning and we were back up at 7. This morning at about 9:30 the fuel cell was out of this car, frame was bent, but we got it fixed and got the job done. When I was a kid, you hear, you know, Ronny Adams, and the legend that he was, and it's amazing to win something like this."
From the sixth position, Stevens used the high side of the oval to take the lead from B.J. Robinson on the fourth circuit. Once out front Stevens hit his marks and paced the field for the remainder of the 50-lap affair to register the $10,000 victory. The win was his first-career Super Late Model victory.
B.J. Robinson, Logan Martin, Brian Rickman, and Tony Jackson Jr. completed the Top-5 finishers.
Full weekend results are available at COMPdirt.com.
Back to News